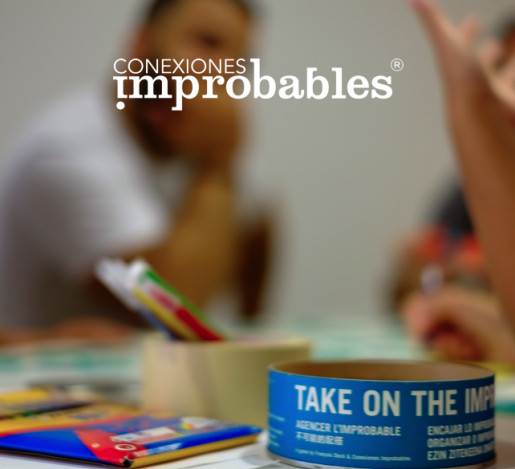 Conexiones improbables
Creative / direct action
Herminio Madinaveitia Kalea, 10, 01006 Gasteiz, Araba, España
Bio / presentation
Conexiones improbables works in the Creative Economy helping to innovate organisations in the Cultural and Creative Sectors, promoting creative cities and territories and making other economic and social sectors more creative and innovative. It does so through a Meta-methodology of hybridisation, open and collaborative innovation with an artistic and cultural base. Because in order to innovate in the what, it is necessary to innovate in the how. Hence, our Improbable Consultancy
Main projects / services
Creative processes of cross-fertilization in organizations for innovation through Long Connections, Creative Pills, AuzoLabs, AuzolArts... Self-designed workshops such as Improbable Innovation paths, Improbable Innovation focus, Improbable Scenarios, Improbable Communication Plan, Improbable Dates, Improbable Walks, Cookreativa. In the image: Creative Pill "Correspondences" with BIOEF and Tanttaka Teatroa.

Strategic support processes for organizations and territories that combine "classic" tools and creative-based methodological resources (co-creation, experience design, Booksprint, organic maps, audience and impact maps, narrative generation, open laboratories...). In the image Strategic Plan for Culture of Alava 2017-2020. Other recent processes have been developed with Kutxa Fundazioa, Diputación de Barcelona, City Councils of Granollers and Pasaia, Basque Government...

International partnership in the framework of different programmes: Erasmus+, Erasmus for Young Entrepreneurs, Creative Europe, Horizon... Image of the Erasmus+ FAST45 which gathers information on the future visions of higher arts education institutions across Europe, develops and tests art-based futures research methods and introduces them into futures labs tailored to higher arts education institutions in Europe.
Key partnerships / networks / alliances
Founding member. Karraskan is a professional association that brings together creative experiences in the Basque Country under the idea of Innovation in Culture, Culture of Innovation.

See partnership

Partner. Innobasque is made up of a wide range of public and private organisations in the Basque Country. It qualifies the partner company Conexiones improbables as an Innovation Leader.

See partnership

Oficial partner. The New European Bauhaus initiative connects the European Green Deal to our living spaces. It calls on all Europeans to build together a sustainable and inclusive future.

See partnership